Temple Railroad & Heritage Musem
The Temple Railroad and Heritage Museum inspires visitors to discover the rich railroad heritage and the history that shaped our community in the past and today.
The permanent exhibits explore working and traveling on the railroad with an emphasis on the Santa Fe Railway. The museum also hosts a range of changing temporary exhibits, as well as education programs and special events. The museum's collection of railroad equipment is displayed on the grounds, next to an active railroad yard where rail fans can observe daily operations and traffic of the BNSF and Amtrak. The beautiful Santa Fe Gardens, Whistlestop Playground, and the Santa Fe Plaza are nearby.
Museum Hours
Tuesday - Saturday | 10 am - 4 pm
Admission
$4.00 (ages 13-59)
$3.00 (ages 60+)
$2.00 (ages 5-12)
Children under 5 Free | Active duty military admission is free with ID
Family Days
The Museum offers FREE Family Day activities on the first Saturday of the month from 10 am to 1 pm. The theme changes every month with different crafts and activities. Mark your calendar for the upcoming Family Days at the museum. 
Quanah Parker Family Day
Saturday, March 4, 2023
10 am - 1 pm
Quanah parker played an important role in the narrative of indigenous people in Texas. Come out for fun crafts, and activities and visit our new exhibition, Quanah parker - one man, two worlds. Join us Saturday, March 4th to learn more about Texas history, the Comanche, and a native Texas legend.

Muggle Mayhem
Saturday, April 1, 2023
10 am - 3:30 pm
calling all witches and wizards. Get your ticket for this fun and magical event. Saturday, April 1st take the leap into a world of spells, potions, goblins, and more. 

Tickets cost $7.00 per person with children aged 2 and under admitted free. Tickets go on sale on March 1st at 10:00 a.m. no tickets are sold at the door on the day of the event. Tickets are sold in 20-minute increments.  The museum will be closed to the public on April 1.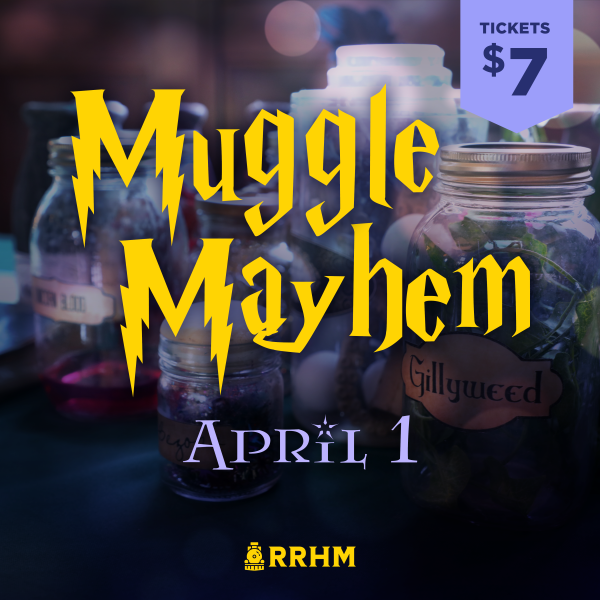 National Train Day
Saturday, May 6, 2023

10 am - 2 pm
National train day is here again! Join the museum for our annual celebration of the completion of the transcontinental railroad. Whether you are a train enthusiast or just interested in a little slice of American history, national train day has something for everything. This is a ticketed event. 

Tickets cost $6.00 per person with children aged 2 and under admitted free. Tickets go on sale on April 3rd at 10:00 a.m. No tickets will be sold at the door on the day of the event. Tickets sold in 15-minute increments. Museum will not be open to the public on National Train Day.
Exhibits at the Museum
Temporary Exhibit 
JANUARY 14, 2023 - APRIL 15, 2023

The display contains more than 40 photos depicting Cynthia Ann Parker and her son Quanah's substantial life events. Cynthia Ann and Quanah Parker are two important names in U.S. frontier history. Much can be learned from the dramatic story of these two courageous individuals. In 1836, a Comanche raiding party took Cynthia Ann from her family. Over the following years, she became a wife to a Comanche chief and mother to children, including Quanah. After Cynthia Ann was taken back by Texas Rangers, Quanah became one of the most important Comanche leaders both in war and peace. The photo exhibit tells the story of the lives of these two people caught between two different worlds.

This exhibit is sponsored by the Texas Historical Commission's Texas Lakes Trail Region.

 
DANNY LYON: BIKERIDERS
April 22, 2023 - June 17, 2023

The Bikeriders features fifty photographs from the iconic series on biker culture that acclaimed photographer Danny Lyon produced from 1963-67. With this influential series of pictures, Lyon pioneered a new approach: he photographed his subjects from the inside, rather than simply as an observer. In 1963, he joined the Chicago Outlaws Motorcycle Club and, over the next four years, participated with the members on long-distance rides and at races, field meets, and informal gatherings. Lyon became friends with his subjects and demystified a culture often stereotyped as a form of "low life." Lyon's book of photographs, The Bikeriders, was published one year before the film Easy Rider.

In addition to bikers, Lyon has photo-documented the Southern Civil Rights Movement, death-row inmates, street kids, and the changing urban landscape of lower Manhattan. He has also produced several films and is considered a significant influence on contemporary photographers Nan Goldin and Larry Clark.
AWKWARD FAMILY PHOTOS
June 30, 2023 - September 1, 2023

Awkward Family Photos the exhibition celebrates the perfectly imperfect moments that come with the family experience and provides a place for people to take comfort in the fact that their family is not alone. The collection includes an assortment of classic Awkward Family Photos framed in vintage, era-appropriate frames, and hilarious 'behind the awkwardness' stories. The exhibition opened to record attendance at the Kohler Arts Center in Sheboygan, Wisconsin, on June 17, 2012, and has been traveling ever since.
UNSINKABLE: VOICES FROM THE STORM
September 16, 2023 - October 28, 2023

Based on the Texas Monthly October 2017 cover story, "Voices from the Storm," this exhibition features the stories of sixteen individuals who survived, witnessed, and assisted others during the five days of rain brought on by Hurricane Harvey. Using story panels, audio, exclusive photographs, and content from more than a dozen Texas Monthly staff members who covered the hurricane, Unsinkable: Voices from the Storm gives viewers insight into what it was like for Texans affected by the storm.
Unsinkable: Voices from the Storm was created by the Bullock Texas State History Museum in coordination with Texas Monthly and organized for travel by Humanities Texas.